Thank you for following our grand adventure blog! We were inspired by many things. First, there was this Radio Public Service Announcement by Sam Waterston (1:10)
The National Park Service (NPS) was created on August 25, 1916 by the National Park Service Organic Act, so it will soon be celebrating it's 100th anniversary (Park efforts Nationally actually started much sooner, but that will be a different blog post for a different day).
Of course, the then there was the documentary by Ken Burns released in 2009 that was just awesome! The documentary series really showed us the magnificence of the U.S. National Park system. Pictures, letters and journals from a married couple were shared throughout the series as they attempted to visit all the parks, beginning in 1915. This inspired us to try the same thing ourselves!
We LOVE national parks. It is amazing the services and opportunities they hold. It helps us feel that our tax dollars are being put to good use, because these wonderful parks and monuments would not be cared for without that tax revenue. It is amazing how many people have never utilized this resource. I find it similar to undergraduate students a major universities who never visit the library and the resources they have. However, it should be noted that annually the National Parks System receives over 280 million visits through their 398 units.
Visiting our National Parks never fails to inspire my love of country and flame my patriotism for America. The stories, and resources are simply amazing. It is like I can hear Lee Greenwood in the background! We are proud to be Americans! (You know this song will always bring tears to my eyes or stir my soul, I really think I blame the National FFA and my first National Convention!!!)
So, we love the outdoors and we love our country, what better thing to do than visit the National Parks! We understand that this will be a lifetime task, but we want to see how many different National Parks we can visit together!
The rules are simple: 1) Visit National Park Service Sites 2) Must be Together 3) A minimum of one blog park per Park Site. We are going to "cheat" and post blogs about the parks we have visited together in the past.
What resources do we have? Well, of course a key website will be the National Parks Site:
National Park Service Website
. I was also very happy that my sister-in-law Melissa Miller, bought me a book from National Geographic on the complete National Park System and then for both Melanie's and my birthday, purchased us a National Park Pass!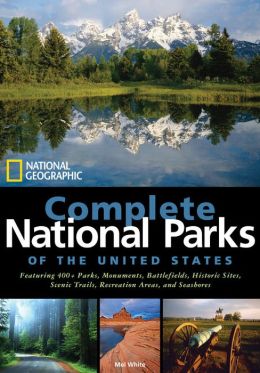 An Annual Pass covers Entrance Fees or Standard Amenity Fees at sites managed by USDA FS, NPS, USFWS, BLM and Reclamation. The basic pass terms and conditions are listed below:
Valid for one full year from month of purchase.
Provides entrance or access to Pass owner and accompanying passengers in a single, private, non-commercial vehicle at Federally operated recreation sites across the country.
Covers the Pass owner and three (3) accompanying adults age 16 and older at sites where per person entrance fees are charged. No entry fee for children 15 and under.
Photo identification may be required to verify ownership.
This means: Some of you can join us on our quest!